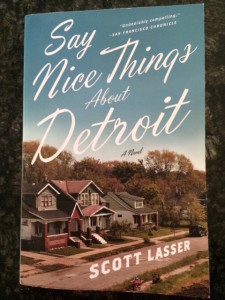 Just finished Say Nice Things About Detroit by Scott Lasser. The title runs through my head all day – this command he gives "to like Detroit!" Love the title but not as much as I loved the book! The theme of trying to make it by coming home again, especially after almost everyone has left; the racial friction, the hope of new things blooming! Thank you for this wonderful read!
"Ambitious and ultimately accomplished . . . a perfect encapsulation of Detroit's present moment."―Dean Bakopoulos, San Francisco Chronicle
Twenty-five years after his high school graduation, David Halpert returns to a place that most people flee. But David is making his own escape―from his divorce and the death of his son. In Detroit, David learns about the double shooting of his high school girlfriend Natalie and her black half-brother, Dirk. As David becomes involved with Natalie's sister, he will discover that both he and his hometown have reasons to hope.
Purchase his book here!  http://www.amazon.com/Say-Nice-Things-About-Detroit/dp/039334553X/ref=sr_1_1?s=books&ie=UTF8&qid=1432506181&sr=1-1&keywords=say+nice+things+about+detroit