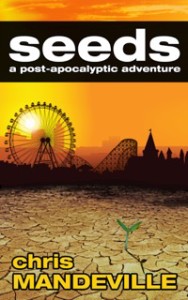 I had the great pleasure of interviewing Chris Mandeville about her post-apocalyptic book, SEEDS. I  thoroughly enjoyed this adventure and found that I had a hard time putting it down once I stepped into this  journey of survival and hope for a better future.
From the inception of this idea, to publication, how long did you work on this book?
Early one morning in spring of 2007 my husband phoned me on his way to work to tell me about a story he'd just heard on NPR (National Public Radio) about the Svalbard Global Seed Vault, a storage repository for crop seeds in Norway. He was convinced that this "Doomsday Vault" would make a great basis for a post-apocalyptic novel, and since he's not a writer, he figured I should write it. I politely told him "no thank you, I have my own story ideas" (though according to his recollection I wasn't quite that polite), then I hung up and went back to sleep, never imagining that one day I'd actually write that story.
At that time in my writing career, I was unpublished but had completed a fantasy novel, The Spider Prophet, a quest tale that takes place in a Native American dreamspace. When I received the Doomsday Vault phone call from my husband, Spider Prophet was in the submission phase, so I wasn't actively writing or revising the story, but instead my writing time was spent sending query letters and sample pages to editors and agents. When I heard back from my top-choice agent about The Spider Prophet, it was a really nice and complimentary rejection in which she said she'd like to see more of my work.  So I pitched her Seeds instead, and she said she'd love to see it when it was done.
I worked on the manuscript for six years before eventually sending it to her. Unfortunately it wasn't a good fit for her in terms of genre at that time. After a year and a half of querying, I elected to go the "indie" route and publish Seeds with a micropublisher, Parker Hayden Media. Four months after signing the contract with PHM, Seeds: a post-apocalyptic adventure was published in both print and e-book.
You have some really good people in this book and some really evil characters. Which do you find easier to write? Did you have a favorite character?
I don't find it any easier to write good guys or bad guys…but I do find it a lot easier to write secondary characters than to write primary ones. Without intending to, I typically create my primary protagonist to be an "every man," which is not really a desireable thing in today's market (according to several literary agents I've spoken with). My secondary characters just naturally come out a lot more quirky and unusual.
In terms of a favorite character in Seeds, that's a hard question. I don't think there's any one character I like above all the others . . . but I will say that I have a deep fondness for Cook. She came to me out of the blue during an improv writing session, and it was like I was channeling her personality from somewhere outside myself. I've never known anyone like her, with her larger-than-life personality and gigantic muu muus. I enjoy her exhuberance, her temper, and her voice. But I can't say she's my favorite. That's like asking me which one of my children is my favorite!
I feel like there were some through threads that could go on. Any chance there is a sequel? If not, what are you working on next?
There are definitely some threads in Seeds that could be spun into a sequel, but I haven't decided yet if I'm going to write one. I would need to be sure that there's a really compelling new story there, not just more of the same. But for now, folks who want more of Seeds will soon be able to read a short story "prequel" starring Tinker. It takes place on the day of the apocalypse inside Cheyenne Mountain. I also plan to release prequel shorts that take place in Seattle and Lost Angeles.
I also have two non-Seeds projects in progress. For fiction, I'm writing a YA (young adult) time travel novel. For nonfiction, I have a book for writers in the works: 52 Ways to Name a Character. Both of these projects are in the drafting stage, so I don't have estimated publication dates yet, but I hope to have the naming book out before the end of 2015.
What else have you written?
I have some unpublished short pieces and a few practice novels. Of those, I think that The Spider Prophet, the novel I mentioned previously, has the potential for publication some day. It can be best described as a Native American Wizard of Oz, though I didn't realize it until the novel was done and I was trying to come up with a "logline" to pitch it.
My first nonfiction book for writers, 52 Ways to Get Unstuck: Exercises to Break Through Writer's Block, was published in 2014. It's a comprehensive guide to overcoming writer's block, chock-full of innovative exercises, anecdotes, and advice from dozens of authors. Importantly, it includes practical "life prep" lessons to keep writers from becoming stuck in the first place. This is the first in a series of "52 Ways" books for writers, with future books planned to address a variety of topics, from naming (mentioned earlier) to "demons" like procrastination and perfectionism.
5. Where can readers find your books, and how can they follow you?
The best way to learn about my upcoming appearances, connect with me, and find my books is my website: www.chrismandeville.com. You can also find me on Facebook at www.facebook.com/ChrisMandeville and on Twitter at @ChrisMandeville. I'm a regular contributor to the Kobo Writing Life blog with my column "Tools for Writers," which you can find here: http://kobowritinglife.com/tag/chris-mandeville
AMAZON: http://bit.ly/seeds-ebook
KOBO: https://store.kobobooks.com/en-US/ebook/seeds-11
GOODREADS: https://www.goodreads.com/book/show/25182034-seeds
BARNES & NOBLE: http://www.barnesandnoble.com/w/seeds-chris-mandeville/1121767348?ean=2940151467636
iBOOK: http://itunes.apple.com/us/book/isbn9781941528242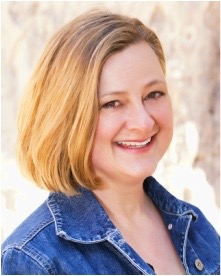 Bio: After growing up in California and graduating from the University of California at Berkeley, Chris married a U.S. Air Force officer and moved from state to state, as well as to British Columbia, before settling in Colorado. She now lives in the woods of the Rocky Mountains with her husband, three sons, her service dog Finn, two new puppies, and an assortment of cats. Chris is proud to have served for more than ten years on Pikes Peak Writers' Board of Directors, five of those years as president, and she remains an active volunteer in the nonprofit sector helping writers, military families, and service dogs. Chris is a writer of science fiction and fantasy, as well as nonfiction books for writers. She's taught writing workshops to hundreds of writers, from beginners to advanced, on topics such as Backstory, Story Planning, The Sweet 16 First Lines, Name-storming, and more. Her published works include Seeds: a post-apocalyptic adventure and 52 Ways to Get Unstuck: Exercises to Break Through Writer's Block. For information about her books, upcoming events, and tips for writers, visit www.chrismandeville.com.